Increase productivity in WordPress, complete your work with more speed and efficiency, then have more free time for doing what you really like! It's easy!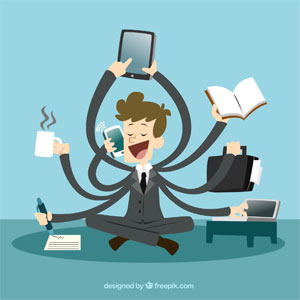 The equation is simple: producing more in less time generates better results and get you free time to do what you really like!
With these tips to increase productivity in WordPress, you will ensure the delivery of your work on time and gain trust from your boss/client.
Increase your productivity in WordPress
WordPress has features that facilitate its use to manage website, blog and virtual store. Right now you'll turn those features in agility and convenience to your work.
WordPress shortcuts
Finish operations without using the mouse. That's what WordPress' keyboard shortcuts allows you to do.
See the complete list of WordPress shortcuts.
Post formats
Available on your content editing panel, this feature brings post formats ready to use. The post will follow a predetermined pattern according to the template (model) of your website.
It's like putting the content in a form of cake: it will follow the template automatically. You don't need to re-edit the format every time you post.
Screen Options
This option is on the up part of your screen. For each WordPress window, it presents different items to be displayed or hidden.
In my "Posts" window, for example, I can show or hide, among others:
Author.
Categories.
Tags.
Date.
Title SEO.
You leave on the screen only what matters and make it cleaner.
This helps to increase productivity in WordPress.
Distraction-free writing mode
One advantage of the WordPress post editor is the ability to display it in full screen, hiding all other options.
Yes, everything go white. It's just you and your text.
The distraction-free writing mode helps you to focus on writing and producing quality content that will generate results for your business.
SEO all in one
Yoast SEO (formerly WordPress SEO) brings all basic optimization options for search engines, including SEO for content.
In the content editing panel, you can set meta description, title, focus keyword and other SEO options.
Learn more about this fantastic plug-in.
Drag & drop editing (dispenses technical knowledge)
For editing pages in WordPress, you don't need to be a programmer or web designer. Drag & drop tools enable anyone to create website, blog and virtual store.
The work you would take days or even months, is completed in hours. That's the best way to increase productivity in WordPress.
Meet EasyPress, a great WordPress drag and drop website builder.
Be more productive and recognized in the market!
WordPress enables you to produce more, quickly and with better quality. So you better enjoy all free features of this platform.
Put our tips into practice to increase productivity in WordPress!