Disable unnecessary plug-ins, remove excessive elements, optimize images and choose the right template and hosting service to increase your site speed.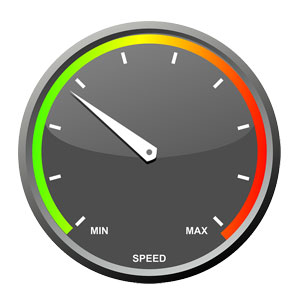 No one likes slow sites. That's why you, who manages or will build WordPress site, should make sure it has a good loading speed.
Make your WordPress site faster with these tips:
1. Disable unnecessary plug-ins
If misused, plug-ins undertake site performance. Typically, this occurs in two ways: plug-ins activated unnecessarily and / or poorly developed. Turn off those, which you don't use. For further information, read about the developer and the plug-in description and reviews before downloading.
2. Remove excessive elements
Ask yourself: does this page needs this all? You can summarize the content – eliminating images, videos and unnecessary blocks – and disable widgets. Fewer components results in faster loading speed.
3. Optimize heavy images files
A JPEG file with 1920 x 1080 pixels resolution and 1.5 MB size, resized to 600 x 338 pixels, appears smaller on the screen, but occupies the same space as before (1.5 MB). Avoid this.
Edit it to the resolution you want and save with lower size before putting it on the site. That same file would reach 69 KB (21 times less), without significant quality loss. That's a way to get your WordPress site faster!
4. Be careful with poorly developed themes
There are hundreds or even thousands of free WordPress templates available on the web. The problem, in most cases, is its low quality. Poorly developed templates with errors in the code, can be slow and not very functional. Not to mention those with malicious code that harm users in other ways
These factors directly influence site speed. The solution is to find premium templates, developed by trusted professionals, like Site.co.
5. Find a host that fits your needs
All these tips are useless if your hosting service is slow. Before hiring a host, look at the plans and customer reviews. Making the right choice is essential to ensure good performance to the site. Here are more tips on this subject!
The ultimate solution to make your WordPress site faster
With Site.co, you create high performance WordPress sites. EasyPress Free offers pre-configured essentials plug-ins, premium templates and hosting service tailored to your project.
In addition, you get an email account and the right to use your own domain. All free! Let's get it started?