With Google Trends, you compare the most searched keywords and improve your content SEO! Put your business on-line! Create free WordPress website!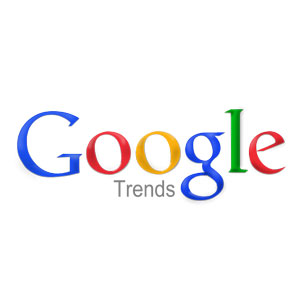 Google's number one tip for
content SEO
is to write for people, not for robots, so you must understand and these people want.
Google Trends helps you to discover what people search on the internet. With this data, you can use keywords that exactly match what users are looking for.
For writing an article about EasyPress, our free WordPress website builder, what keyword would you use: "create website" or "build website"? Google Trends helps you to choose the best keyword for content SEO!
Using Google Trends
Open Google Trends (click here) and enter up to five different keywords, and the tool will compare them, showing the most popular. Yes, is that simple!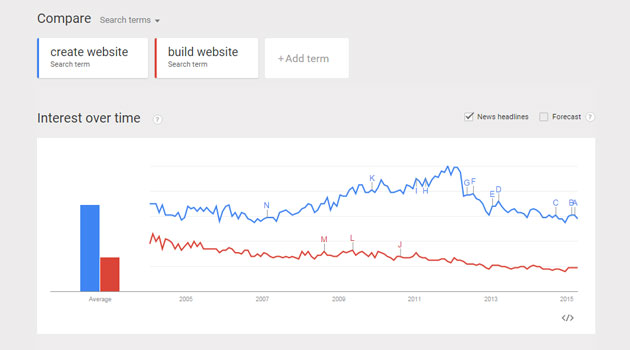 In this case, "create website" has more searches than "build website", so you should use the first on title, subtitles, meta description and on text's body.
The danger here is to overuse it. Even though "create website" being more popular, alternate this keyword with its equivalent "build website". If your article has a poor vocabulary, people won't enjoy reading it.
Remember: write for people, not for robots.
WordPress SEO plug-in also helps on optimizing content for search engines. Click here to read a full article about it.
Google Trends to inspire content creating
Another Google Trends feature is to give you ideas for creating content. It shows what people are searching by that time: music, videos, celebrities, athletes, sports, trends and more, organized by country or global.
Site optimized to be found on Google
Besides content SEO inspired by certain keywords, your website must follow various technical parameters to be found on Google.
We developed our free WordPress templates following good SEO practices, such as mobile-friendly layout (click here to read more) and customizable URLs (click here).
Enjoy these and other features for you site, build it with EasyPress visual editor, get an e-mail account and use your custom domain name! No code skill needed!