Follow these suggestions of content for website footer that will make your website more navigable. Increase your results on-line with a nice web design!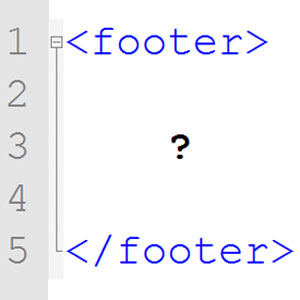 Each section of the website, including the footer, must prioritize navigability for the user. Although it's there, at the bottom, away from the area where we look at first, the footer is very important for helping the visitor find what he is looking for. Check these content suggestions for your website footer that will improve your web design.
Contact information
Who owns a business and uses the website for advertising, needs to make easy for the customer to talk to him. Besides the hyperlink to the contact page on the top menu, insert contact information on the footer section.
About
You also can put hyperlinks or information about your company or website. If you choose a text, it must be short. Quick links should send the user to pages like "About", "Contact", "Services" and "Our team".
Promoted articles
Every blog have (or at least should to) a featured article list, by views, comments or shares. Another way to promote your articles is to add a featured widget on the footer. This extra list will help you to get more clicks and pageviews.
Social media
The free space at the footer is an invite to social media boxes, like Facebook Like Box, Twitter Follow, Google+ Follow and others.
Hard to edit the footer?
EasyPress Free make it easy to edit the footer as you want. This tool allows you to build a professional website from a customizable template, without touching any line of code. Also you can use a custom domain name and get one e-mail account, all for free!