Learn how to create website for advertising agency in WordPress without spending anything or coding skills. It's easy, quick and simple. Start today!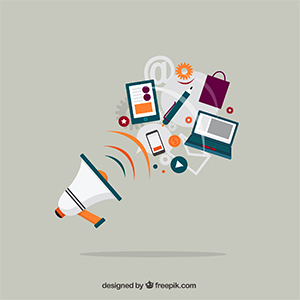 Create website for advertising agency
is easier than you think. In this guide you will find:
Free WordPress template for advertising agency website;
Step by step to add content;
Visual editor that doesn't require programming skills.
Courtesy: get an e-mail account and use your custom domain name in the website.
An advertising agency, more than other companies, need a quality website. Then you ask: why?
Because it sells communication, and a professional website is a basic tool for digital marketing.
Would you trust a policeman who commits crimes?
So you would not hire an advertising agency that not even have a website.
Are you convinced to create website for advertising agency? Get to work!
Free WordPress template for advertising agency
This site template can be edited with a visual tool. You only have to click on the items and modify them!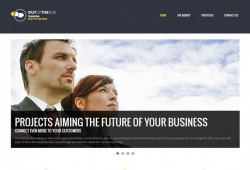 With EasyPress visual editor, it's easy and free to create website for advertising agency!
Content is the hard part, and we teach you how write copy that generate more results for your business online.
The best content for advertising agency website
Each item taught below works with any advertising agency website, but will fit even better in the free WordPress template that we gave for you!
Homepage is where you catch customer's attention
Highlight the advertising agency specialities. Right at the start! Use icons and images that illustrate.
Thus, visitors will quickly identify what is your agency speciality.
Let us assume that in your case the focus is online advertising, ads on Google and social networks.
Summarize the description of these services and the benefits of each one, even on the homepage of the site. If possible, illustrate them to help in content reading.
Remember that the idea is to expose as soon as possible your solutions.
These copywriting tips will help you get by just fine.
Services page for detailed info
What was missing report on the home page will be included here.
Use objective and persuasive writing. Present the technical part, but use clean language to the visitor understand what you are saying.
Images will help you to tell your history in a more clear and attractive way.
About the agency and how it will be useful for the customer
Show how your team and infrastructure are able to meet the client's needs.
Actual photos of the professionals and the agency's headquarter add credibility. Use it!
Just be careful for not take too hard and tell too much about yourself. The goal is to show your ability to delivery any work on time and with impeccable quality.
Focus on relating the agency structure with the benefits that the customer can get from it.
Customers transmit credibility
When creating website for advertising agency, it's possible that you haven't got many customers yet.
But if you already have some, take a page especially to show them to anyone who visits the site.
You ask permission to them and display the logo of each.
Portfolio show that you can do it
It's time to prove the potential of the agency.
Select the most important work that it has delivered. Each one will have a dedicated page, all centered on the portfolio.
The ideal framework to contextualize your projects are:
Challenge brought by the customer;
Solution idea by your agency;
Final result and successful history!
Of course, you will use images to support the copy.
Contact
List all possible ways for the customer to contact the agency:
Message form;
Phone number;
E-mail;
Physical address;
Social networks.
This is the shortest page that exists when creating site to agency!
Site footer
As it appears on every page, take it to place links to other pages, social networks and contact information. Here is how to do it.
The secret here is the agility provided by the footer, which can be used smartly.
Start now to create website for advertising agency
Put these tips into practice!
It's free and you get an e-mail account and can use your custom domain name!
Create website for advertising agency free!