With only 5 simple steps, you will implement this effective digital marketing strategy for small business that not requires technical knowledge or money.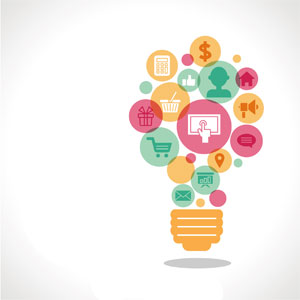 How about to promote your business online, by your own, independently and without spending money?
This digital marketing strategy doesn't require any spent with ads or tools and dispenses technical knowledge.
You just need to invest time and effort to get results!
Digital marketing strategy for small business
There are 5 marketing activities for you to achieve several goals, such as:
Increase sales;
Make your brand known;
Find new employees.
1. Create website
A website is the virtual headquarter of the company: where customers will find information about your business history and activities, photos, products, services, location, contact info, etc.
Every website should work on phones and tablets, to be easy to navigate and answer all customer questions.
The best way to create website without technical knowledge is using a website builder. So, you warrant details such as usability and responsive design, because who created the site template you chose already thought about it.
Follow these design and content tips to create a successful website.
2. Sign up for geolocation services
Users look for local businesses on search engines such as Google and geolocation services like Foursquare and Google Maps.
If your business has a physical address, register it on virtual maps because it makes it easier for your target audience to find you. Maps services also increase your credibility and bring more visibility to your brand.
3. Join social media
Social media is where people are willing to interact with you and share good or bad things about your company.
Besides using these media to share content and be known, there you will respond to comments, receive suggestions and monitor what users say about your business.
Replace website with a page on Facebook is a mistake. You can't depend only of a fanpage to appear on Google and show all the information that customers need to decide between you or your competitors.
You must have both, because Facebook page complements your website.
4. Publish content in corporate blog
It is appropriate to offer useful content to the public to promote your brand and also convince them to choose your company instead of the competition.
Blog allows your marketing strategy to work more fully than simply using ads. You can publish content (articles, graphics and even videos) focused on helping people solve problems with the products and services that your company sells.
5. Work SEO (optimization for search engines)
It's impossible to create digital marketing strategy without including this part. That's how your business appears on Google, attracts more customers and increases sales!
By creating mobile-friendly website with complete info, being on virtual maps, participate in social media and produce relevant content, your company will appear on Google and others search engines.
The biggest advantage of doing SEO is that instead of appearing on Google only when someone types your company's name, your business will return in the search with several keywords related to your area because you have relevant content published!
Start your digital marketing strategy right now!
Putting into practice this digital marketing strategy is easier than you think. You just need to focus and improve every action to get the expected results.
Set your goals and go for it!