These five web design tips to make a website bring results for your business and improve your marketing strategy to get more customers and increase sales!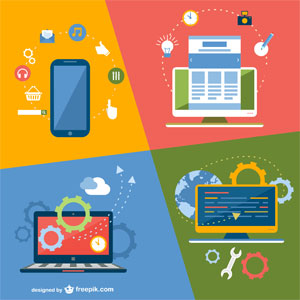 Are you ready to make a website able to attract customers and bring all the results planned?
5 tips to make a website that sells more and better
Make sure that is mobile-friendly
We bet you would not want a visitor interested in your business leaving your site because it was hard to browse on a smartphone.
Besides losing visits (and money), your website may not appear on Google because the search engine penalizes those who don't support mobile devices.
The best way to make a website that is mobile-friendly is to pick up a free responsive WordPress template. You don't have to worry about the technical part, because the web designers who developed it made sure it works with smartphones and tablets.
Here is a gallery with dozens of free responsive website templates.
Have a modern design
Titles with large and attractive font, dynamic background, slideshow, short and objectives texts. These and other web design trends have gained such status because they make the website most modern and easy to navigate.
Nobody likes to spend money in an ugly and dirty store. So why a website would work under these conditions?
Tell all that your visitors need to know
You can be short without compromising the quality of information.
Work with the texts of your site to answer the most common questions from customers:
Who? – About your company.
What? – What services it offers.
How? – Application of products/services in the customer's life.
Why? – Advantages and differentials.
How much? – Prices and values (if applicable).
Where? – Contact info.
Make calls to action
The customer browses easily and got all the information he needed to decide, because the website is well planned. What now?
Buttons and calls to action are crucial to transform the visitor into customer.
Some examples:
Buy it!
Contact!
Sign in!
Optimize for search engines (SEO)
Checked all the above items to make a professional website, make sure that it will appear on Google and other search engines.
A simple marketing strategy involving content, social networking and geolocation is enough to take the first steps towards the top of Google results.
For those who use WordPress, we still have these SEO tips.
Ready to make a website like the big companies?
Specific features of the site vary according to the segment and goals of your business. The tips in this article, however, apply to any project, so put them into practice to make a great website!
Create Free WordPress website!