Seeking inspiration to make an efficient price list to display on your website? With these tips you will increase sales and subscriptions. Learn with us!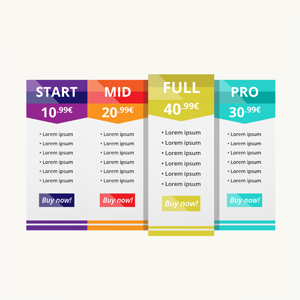 Talking about price is tricky for many people, because that is when the customer usually gives up. Well, lose your fear now!
There are techniques to make a price list that convinces users to purchase or subscribe to your service. Today you'll learn these simple practices to sell more and better in your website.
Tips to make a price list that sells
Choose a plan that is the sales focus
Before you make a price list, you should already know what is the main plan or service package to sell.
Imagine that you have one option for these audiences:
Individual users.
Small businesses.
Big companies.
Suppose your main target audience is the small business, so this will be the chosen plan to sell more.
From the preparation to the publication of the package, think about how it should benefit customers to be really attractive.
Highlight the most advantageous option
Once defined the flagship of your company, highlight it visually in the price list.
Place a mark of "best-selling" or "most popular".
Change the color as you like.
Place the package in the middle column of the pricing table
Few people like to be ahead. Most prefer to follow, let others tread the way first so they have less risks later.
Also there are few who like to be last ones.
Therefore, the conclusion is clear: the majority of people prefer to be in the middle.
This is why the plan should be highlighted in the middle: the customer feels more comfortable.
Best tool to make a price list on your website
Easy Pricing Tables Premium is the best plug-in for WordPress to create price list.
Get to know it now and see what it can do.
More tips to sell more and better