Are you in doubt between WordPress or Drupal for your website? We listed the advantages and disadvantages of each one to help you make the right choice!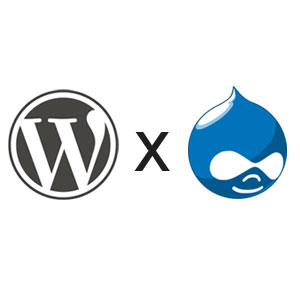 Although WordPress is the most popular, with 79% of websites that use content management system (CMS), alternatives such as Drupal also are available for choice.
This article will help you to decide between WordPress or Drupal.
WordPress or Drupal: what is the best?
This answer is subjective, because each CMS can serve you in a particular way. It all depends on your project, goals and style of working.
We will describe each one, then you get your own conclusions to choose the CMS that suits you.
Drupal
Main features
Open source: the system is all customizable.
Add-ons: extra features for website management.
Website builder: facilitates the creation process.
Templates: avoids having to start from scratch.
Organizations that use Drupal
White House.
The Weather Channel.
NBC.
Drupal's advantages
It is customizable.
Supports large projects.
Drupal disadvantages
It is hard and complex to non-technical users.
Has smaller community (less support options, extra features, website templates, etc.).
Overview
To harness the full potential of Drupal, you need to know a bit about programming. This tool breaks the boundaries for your project, but also can limit it, since the CMS demands time and expertise.
This explains the preference of Drupal for large companies with teams of professionals available and enough budget to spend.
WordPress
Main features
Open source (all customizable).
Plug-ins.
Website builder.
Site templates.
Organizations that use WordPress
NASA.
Sony PlayStation.
BBC America.
WordPress' advantages
Customizable.
Easy to handle.
Large and active community (more support, templates, plug-ins, etc.).
Supports all sizes of projects.
WordPress' disadvantages
In some complex projects, WordPress may don't meet all expectations of the developer.
Overview
Thanks to combination of simplicity, flexibility and wealth of features, WordPress is used on most sites that has CMS, such as e-commerce, business websites, online portfolios and blogs.
WordPress or Drupal: which one to choose?
The decision is yours, but if you want an opinion, that is: choose WordPress because it will satisfy your needs with ease, speed and economy (there are free website builders with WordPress templates).
Drupal won't let you down, but will give you a little more work and expense to achieve the result you expect.