Web design mistakes are always negative, whatever the year. The good news is that you can identify and correct them today. Save your website now!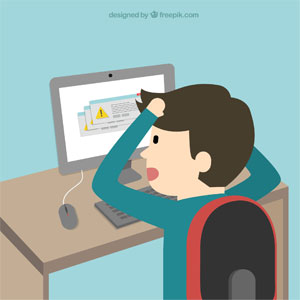 Stay alert to these
3 unforgivable web design mistakes in 2016
.
Images with inappropriate size
Among other issues, these web design fails manifest themselves in two common forms:
Too large: heavy images leave you website slow to load, which is bad for SEO. It also gets your customers angry. (Learn how to speed up your website).
Too small: make the layout looks ugly. It alsos compromise the website visual. Looks like the picture did'nt finish loading.
Have you ever opened an image expecting to see it full and beautiful, but it was small and poor defined? I bet so!
The solution is to optimize the images' size before uploading them.
Texts mixed with background
The text is white, and the background, light. The text is black, and the background, dark. Failures such as these make it difficult to read the content on your site because the colors blend.
Nobody wants to waste their time trying to read something that is impossible to see.
The solution is to use images or background colors that contrast with the text.
No consistent visual identity
One of the most common web design mistakes, this is manifested in several ways:
Different fonts in the menus.
Colors unrelated to the brand or any palette.
Visual elements without any criterion or standard.
The solution is to review the branding of your website: limit the use of colors, standardize your types and analyze if you would even want to browse a website like yours.
Bonus tip: visit other websites in your area to see how they do.
Escape from web design mistakes! Follow these tips!
Alert your friends about these errors.
Share this post!