We listed common mistakes when creating website and showed an easy solution for each one. Publicize your business online with more quality!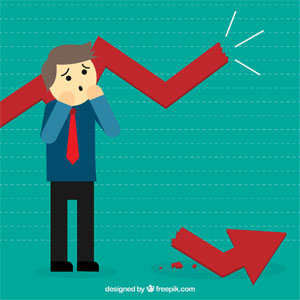 With so much content on the internet, including from your competitors, every detail of your website count to earn customers preference.
So it is important to pay attention to these common mistakes when creating website. Be wary not to make them and thus provide the best experience to users.
5 common mistakes when creating website and their practical solutions
Not using custom domain name
This makes it difficult to memorize and transmit unprofessional image of your company. Amateurism affects your business credibility, especially for those who found it first on internet.
The same goes for e-mail: receiving message from "relationship@site.co" sounds better than "relationship.site123@hotmail.com."
Solution
When creating your website, register your own custom domain name. There are free website builders, such as EasyPress, that make easy the domain registration and configuration. It saves time and effort from the user.
Not being mobile-friendly
Statistics about mobile in 2015 show that these devices are tools for products and services research for 47% of its users.
This means that if your website is not responsive, that is, compatible with mobile and tablet, you will lose business opportunities.
Appear in Google is another point, because the search engine penalizes sites that aren't mobile-friendly.
Solution
To avoid these common mistakes when creating website, search for responsive themes. Nowadays you can find free mobile-friendly WordPress templates.
Not paying attention to the language and information
Poorly written texts irritate the user due to grammatical errors and incomplete information.
It's frustrating not getting the necessary information for decision making, especially when it comes to buying.
Would you buy from a seller who doesn't say anything useful about the product?
Solution
When planning content, ask yourself what you would look for. When searching a TV, for example, you want to know its screen size, image resolution, external connections, etc.
With the full text, review to make sure it doesn't contain grammatical errors.
Not separating personal from professional life
Even if you are your own business, separate your professional life for personal.
Your website must inform visitors how you are ready to solve their problems, not your hobbies or personal preferences.
The same goes for social networks.
Solution
Create one profile for your friends and another for customers. If you don't want to do that. Think twice before posting anything, because people judge and may no longer do business with you because of misunderstandings caused by posts.
Not following good web design and content practices
There is enough information on the internet teaching how to get results and avoid common mistakes when creating website.
Ignoring best practices and web design trends is a mistake, as they emerge and consolidate for a reason: they all work well.
Solution
Follow these tips posted on our blog, and when you are ready to put them into practice, try EasyPress free website builder.
Ready to have a flawless website like the big companies?