Are you in doubt about how to create graphic company website without coding skills? Learn everything you need and get a free WordPress template to edit!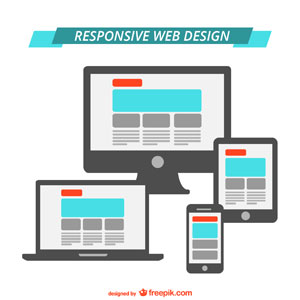 A great way to save money, but without leaving quality aside, is to
create free graphic company website on WordPress
. With our builder, you don't need coding skills because it's totally visual, without any HTML to edit.
This guide will teach you:
What to put in a website for graphic company: information, services and portfolio.
Where find a free template for the site.
How to edit and create your site for graphic company.
What information to put in a graphic company website?
Your visitors usually knows what they want: a solution to a problem. So make it easy for him to find your services.
Home Page
Present your graphic company, what it makes best and its differentials. Therefore, answer these questions:
What services does it offer?
Where is your graphic company?
Does it send products by mail?
What sets it apart from its competitors?
What customer profile does it attend?
That's enough info to show with consistency your graphic company.
Products and services
Here the information is technical, after all you will list the graphical services. Be specific: describe clearly the services. This is something you do understand very well.
If you have in your graphic some products for sale, such as decorated picture frames, posters, etc., list them in a specific page. It's your online showcase.
Be careful for not being boring. To escape it, balance your technical info about graphic with copywriting guidlines. How? It's simple.
Show how each service or product benefits the customer, instead of just saying how good they are. Tranquilize the customer, because you got what he needs.
We have an article teaching how to write texts that get customers your business. Click here to read it.
Portfolio
It's the time of truth. Does your graphic company just make promises or really make it happen?
In the portfolio page, show the most challenging and successful services. The potential customer will see that others were satisfied with your services.
Make him feel like: "they've made it, now is your time". This is an advertising technique used by many brands.
What to write in the portfolio page?
Use pictures, tell how it was possible to perform that service and put contact information for the user call you after he finished reading.
Contact
The last stage: your visitor is ready to turn himself into customer.
Beside the contact page, insert data, such as telephone, address and e-mail in all others. Using website footer is an effective way for it. Click here to learn how.
In contact page, list all contact information and include a form.
Where to find free WordPress template for graphic company?
Saving time and money is one advantage of WordPress templates, since you don't need to create the site from scratch.
Luckily, we have a specific template to create a graphic company website. It has the whole structure dedicated for this purpose – each page and menu -, which makes it easy to edit.
The site is responsive, that means it fits into smartphone and tablets screen. It's ready for mobile devices, what improves its position in Google. Click here for more info.
Browse this free website template: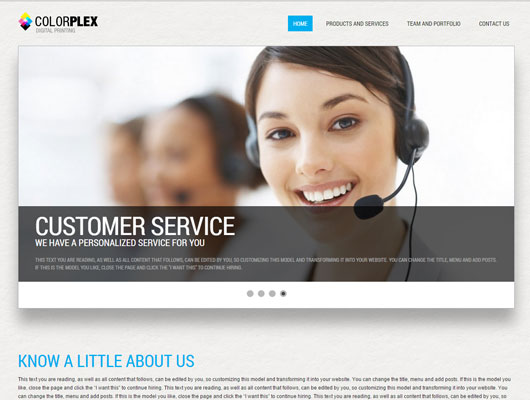 How to edit the graphic company website?
It's so easy that instead of writing a step by step, we dare you to test EasyPress builder.
After choosing your WordPress template for graphic company, all you have to do is click on the items on the screen and overwrite them.
When you want to add more elements to the page, click on the corresponding item and drag it to the desired location.
It's easy. It's simple. And you got an e-mail account and can use your custom domain name!
Click here to create free graphic company website on WordPress
Image via