Do you want to boost your income working online? Here are 3 ideas to make money with WordPress for you to put into practice now and become your own boss!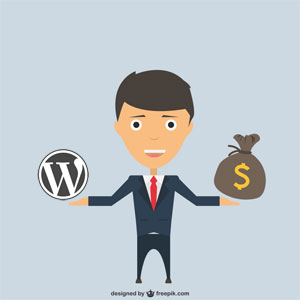 Make money with WordPress is a real possibility for anyone who works with internet. Widely used, this platform is popular worldwide in blogs, websites, virtual stores, forums, etc.
This means that there is a huge demand for WordPress professionals on the market.
Here is your opportunity to become an online entrepreneur!
Check out these 3 ideas to make extra money with WordPress.
Create and sell WordPress websites (even without coding or web design skills)
It seems impossible, but it is not.
Website builders that work with WordPress templates allow anyone to create, even without technical knowledge.
The business is divided into two levels: easy and hard. We help you with both!
Creating WordPress website is the easy part, after all you just have to choose a template and click on the elements on the screen to edit them.
Images, buttons, forms, etc., they are all available, ready for you to add and edit as you wish, with a few clicks and without any effort! Hosting is included!
Click here to use our WordPress site builder.
Getting customers is the hard part, but nothing that some hard work cannot solve.
Do you want to work from home and earn extra money, is not it?
Then it is worth chasing.
Start by creating your own website with our builder. He will be your online portfolio.
Apply marketing techniques to stand out from the competition:
Great, you're on track to become a WordPress pro!
Digital marketing
WordPress manages content in blogs, websites, virtual stores, etc. Content is one of digital marketing's bases. Then your skills in this platform are essential to start working on this area.
You must master other areas such as SEO, sponsored links and social networks, but knowing WordPress is a requirement for any candidate.
So to make money on the internet working with digital marketing, you have to learn WordPress, because at some point you will need to use this tool.
Major brands such as Google, The New York Times, NASA and Coca Cola, use WordPress in their digital marketing strategy.
Imagine if the professionals in these projects could not work with this platform?
They would be without a job, of course!
We have one article involving digital marketing and WordPress:
Content making
Own blog editor or freelance writer, WordPress is the best option for content producers earn extra money.
79% of content sites use WordPress, which shows us again that all digital entrepreneurs are required to master this platform. Everyone uses it!
You can make money with WordPress blog following this flow:
Find a niche market (a specific target audience).
Create a digital marketing strategy (can you see how it needs WordPress?).
Produce relevant content (which generates traffic to the blog).
Sell ad space and write sponsored posts (bingo!).
We call it monetizing a WordPress blog. In other words: making your blog lucrative.
These online disclosure of tips will help you promote the blog on the web:
Did you like our ideas to make money with WordPress?
You have to struggle to boost your income, but it is not as difficult as it sounds.
Follow all our tips and use our WordPress website builder to have performance of a true professional!
Image via